Twitter:@saranxxx00
Instagram:mistresssaran
MY SIZE
Height: 150cm/4'11"
Bust: 83cm Waist: 58cm Hips: 83cm
Shoes size: 23cm /US 5.5~6 /UK 3.5~4
Dress size: XXS
MY INTERESTS
Anal play :Fisting, Expanding, Strap-on/pegging
Ball busting
Ball kicking
-I have starred in one of the famous ball kicking movies from "SUKEBAN KICK".
Biting
Body worship: Leg, Foot, Ass, Other
Bondage/Restraints :Mummification, Gags, Hoods, Cuffs
Boots worship
Breath control
Candle/Wax
Caning
Castration fantasy
CBT(Cock and Ball Torture)
Chastity control
Collar and Leash
Confinement
CP(Corporal Punishment) :Canes, Crops, Paddles, Whips, Straps or simple OTK
Cross-dressing/Sissification
Degradation
Double domme
Education
Enema
Face sitting(clothed)/Queening
Face slapping
flogging
Foot fetish
Foot job
Glove fetish
Glove smothering
HOM (hand over moth)
Hard sports/ Brown shower /Scat, Toilet training
-I accept hard sport session only if they start at 1 pm.
Humiliation:verbal and physical
Interrogation
Kidnap
Kinbaku/Shibari(Japanese rope bondage),Suspension
-Japan is famous for its 'Japanese style bondage' (Kinbaku) and I practice Kinbaku since many years.
Latex fetish
Leg scissors
Leather fetish
Maid training
Mummification/Clingfilm
Neglect/Ignored(being)
Nipple play
Objection-human furniture/ashtray
Pantyhose adoration
Pet play
Prostate massage
Role play
PVC fetish
-I have a lot of high quality PVC fetish outfits made in Japan .
Satin fetish
Sensory deprivation: Blindfolds, hoods, ear plugs
Servitude
Shaving
Shoes fetish/Retifism
-I love high heels and boots; all shoes in general. I really have a lot of different shoes. If you want her to wear a certain type of shoes, just ask.
Slave training
Sleeper hold
Smell fetish:Feet, Shoes, Armpit, Underwear, Other
Smothering
Spanking
SPH(small penis humiliation)
Spitting
Tease and denial
Tickling
Tie and tease
Total enclosure: Latex, PVC
Trampling:heels, boots, bare foot and covered
TV transformation
Vore(watching me eat)
Water sports/NS/Golden shower
Whipping
I have a lot of full musk and globes. check my tools and costumes page.
And I love pvc and latex outfits!
NO-GOES
I do NOT offer adult baby play.
I do NOT session naked, semi naked/topless.
I do NOT offer blowjobs/sex.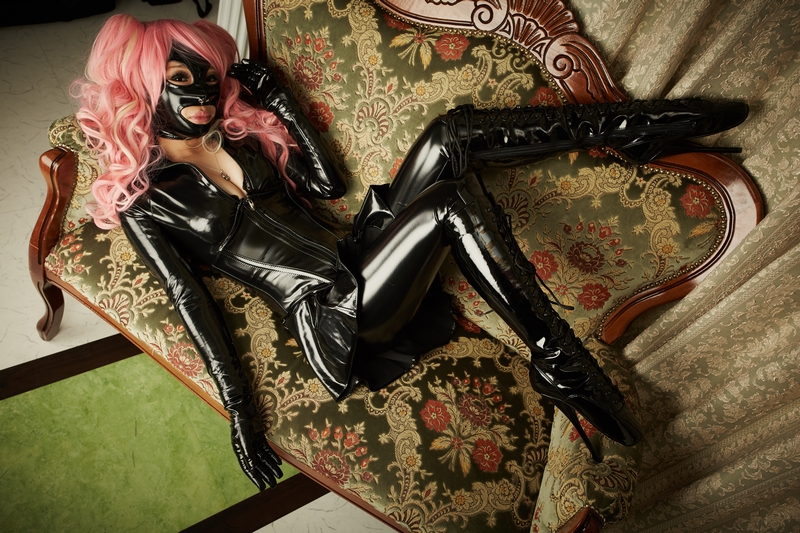 BOOKING
Please check our club "Ishtar" (Mistress club in Osaka) site, to book a session with me.

It is not possible to book a session with me via mail directly. Please mail our club. Thank you very much.
Feminization course is for only Japanese speaker.
WISH LIST
HOUSE OF Harlot Gift certificates